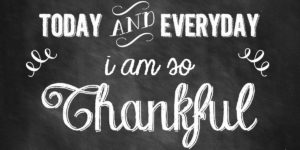 Since Thanksgiving is almost upon us here in America this post is fitting.  Awhile back I read a blog post from someone who – I'm paraphrasing here – basically said that thanking Yahweh for every little thing in our days is meaningless, that He is bigger than that and He doesn't care.  That it actually makes Him small.  After reading the entire blog post I simply said to myself, "I don't agree with him" and moved on.
Here I am months later, and this post coming to my mind too many times to count, I just have to address the concept of only thanking Yahweh for the big and bold miracles in life and just accepting the little things that happen as "good things, but not worthy of being grateful".
Tuesday was one of those crazy days we all have too many of.  I actually wrote out a timeline of errands to keep myself on track.  It went something like this:
12:15 leave the house, go to Charming Charlies and buy 8 senior gifts for the banquet
12:45 leave CC to go pick up the cake in Farmington Hills
1:15 leave with the cake to pick up Katherine from school in Wixom
1:45 pick up Katherine and take her home
2:15 pick up the balloons and decorations at Party City
2:30 drop off cake and all decorations at the banquet venue in Northville
3:15 leave with Katherine for her eye exam appointment
3:30 eye exam appointment
4:30 leave eye exam shop and go pick up van from repair shop
4:45 pick up van and send Katherine home with it
5:00 pick up Tom and take him home to pick up Katherine and drive to the banquet to be there by 5:15 to finish setting up before people started arriving at 5:30
5:30 banquet begins
All of this running around in an area filled with crazy traffic and I knew there was no way, just no way, that all of this was going to get done in this time frame.  Talk about stress.
Then a wrench got thrown in right from the start.  Doesn't that always happen?  You have your day all planned out and wham! something more added to your plate.
Seems Tom needed leave the house at 12:50 to be dropped off since he didn't have his van.  UGH!  So my timeline was immediately re-adjusted and I lost 45 minutes right from the start.
Now normally I would just power through stressing all the way.  I'm working to do things differently these days and praying my way through instead of powering my way through.  So I prayed.  To just enjoy the journey of the day.  To spend the time in the car with Him, listening to praise music and singing (by the way – not something I do unless I'm in the car – alone).  To relax and enjoy so the evening would be fun and not exhausting.
Can I just say WOW!  Even though I got started 45 minutes late I ended up at every single stop either right on the minute or as much as 5 minutes early.  I watched as roads that were backed up one minute were completely clear the next (never happens here in Novi).  Light after light went green and cars miraculously turned off out of my way.  By the third stop I was laughing with Yahweh.  I was having the time of my life with Him.
Some stops I don't even know how it happened.  Where I had allowed 30 minutes to find gifts for the seniors I found them, paid for them and was back in the car in under 10 thanks to an amazing sales girl.  Where it was a 25 minute drive from the cake shop to pick up Katherine only took me 15.  (AND I was NOT speeding – ha ha).  Where I had 15 minutes to leave the eye appointment, pick up and pay for a van and drive to get Tom, which should have taken the 30 minutes I allotted, it only took 10 and I was 5 minutes early to pick him up.  It's not realistically possible to drive that far, make that stop and drive again.  I actually don't know how that happened.  And I had to go through one of the busiest intersections in Oakland County and there were NO CARS!!  And a green light!!
Throughout my afternoon I continually thanked Him.  Over and over again.  For the light turning green.  For no traffic in my way.  AND I even took time out to stop for a car wash!
So I was thankful for the small things.  Or were they small?  I wonder.  For me as a parent sometimes my children ask for and are thankful for small things I do for them.  I ALWAYS appreciate when they are thankful.  What if my children were only thankful when I did something BIG for them?  I think I would stop doing the small things.  It makes me wonder if He does the same.  Does He stop doing the small things because we don't take the time to thank Him? Or even notice that He is doing them for us?
As for me I will continually thank Him for ALL of the things He is doing in my life, no matter how big or how small.  I want Him to know I appreciate it all.  That it means something that He is there and I can feel and see Him.  I felt His presence on Tuesday.  It was fun and so inspiring to watch Him make a way for me.  I felt special in His eyes.  I am grateful that the creator of the universe still has time to make my day a little easier just because I asked.
As scripture states, "you do not have because you do not ask".  I say to ask and then be grateful.  It's a lot less stressful and a lot more fun!
This is Simply My Opinion,
Kathe